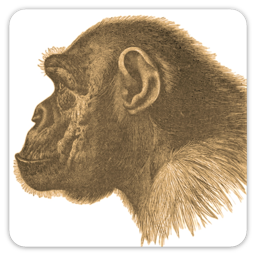 Download from the App Store
Ape Test
Version 4.2 - Adaptions for iPhone 6 and iPhone 6 plus
Note: iOS 7 required since Version 4.0!
Test and train your photographic memory!
Can you keep up with the chimpanzee Ayumu?
You have to memorize the positions of up to nine numbers within a very short time span. The chimpanzee Ayumu accomplishes this masterfully, even if he has seen the numbers for just 210 milliseconds. The human test persons undergoing the same test performed worse.
What about you? What can you grasp with a glance?
For training you can set longer time spans (and less than nine numbers). There is even a special setting for hiding the numbers only when the first one is touched. Ayumu did start his training like that, too, by the way (although he did have to learn first that numbers are ordered).
You can track your progress with several statistics (Ayumu prefers raisins ;-)
The application is based on real trials with chimpanzees which were performed in 2007 in Japan.
What's New in Version 4.2
Adaptions for larger displays of iPhone 6 and iPhone 6 plus
Previous Versions...
What's New in Version 4.1
Bugfix for iPad version (fixes missing number fields)
What's New in Version 4.0
What's New in Version 3.3
Support for the 4 inch display of iPhone 5
What's New in Version 3.2
UI issues (numbers not showing up or tiny white dots)
What's New in Version 3.1
Fixed a crashing bug and some minor UI issues
What's New in Version 3.0
Game Center support
Support for iPad Retina displays
What's New in Version 2.1
Minor bugfix for iPhone/iPod touch: landscape orientation had been enabled by mistake (and therefore looked broken until rotated back).
Minor bugfix for iPad: fast rotation about 180° at once broke the layout until rotated by 90° again
What's New in Version 2.0
Now a universal app with optimized iPad version:

Player list always visible in landscape orientation.
Player list shows best values of all players for the current settings.
Switching to other settings even simpler thanks to a settings selection field.
Number of trials accomplished for each setting immediately visible right within the settings selection field.

New success sound.
Best values for success rate and average correct touches are remembered and displayed in the statistics view.
Chart now only shown from 20 trials up because the first 19 values (being no averages over 20 trials like the rest) are not comparable with the rest or the new best values and would distort the plot.
What's New in Version 1.2
Fixed a bug which was introduced in version 1.1 and prevented that the states of new games were saved when running iOS 4.
What's New in Version 1.1
Added high resolution support for the Retina display of iPhone 4.
Screenshots
iPhone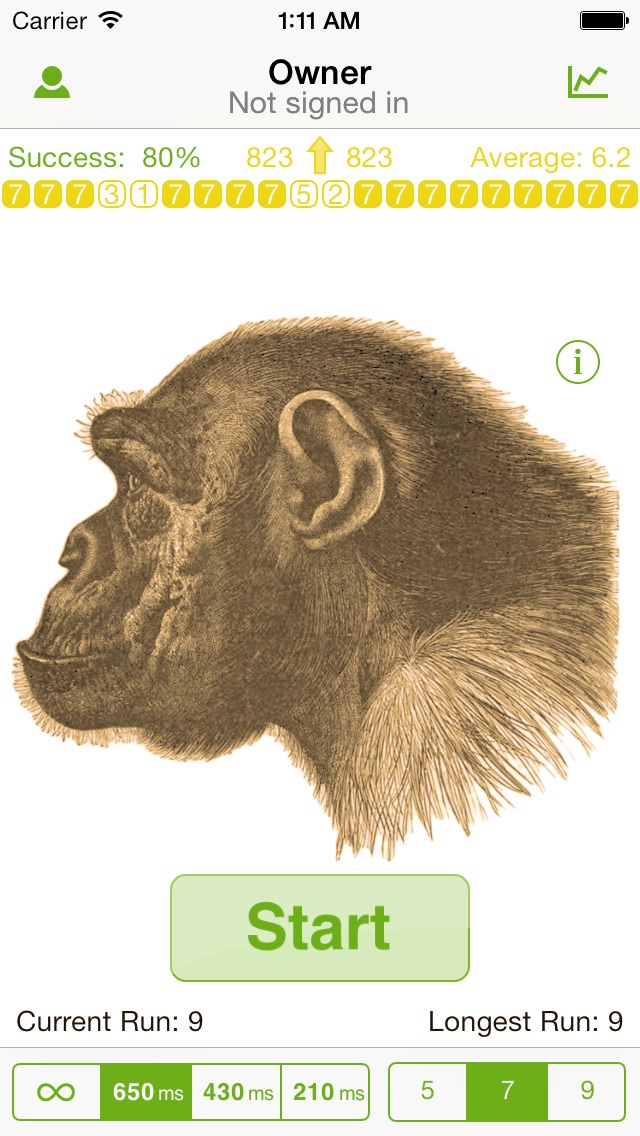 Touch the Start-Button to go...
Try to remember the positions of the numbers. They will get hidden after the selected time span (or when touching the first number if no time span is selected).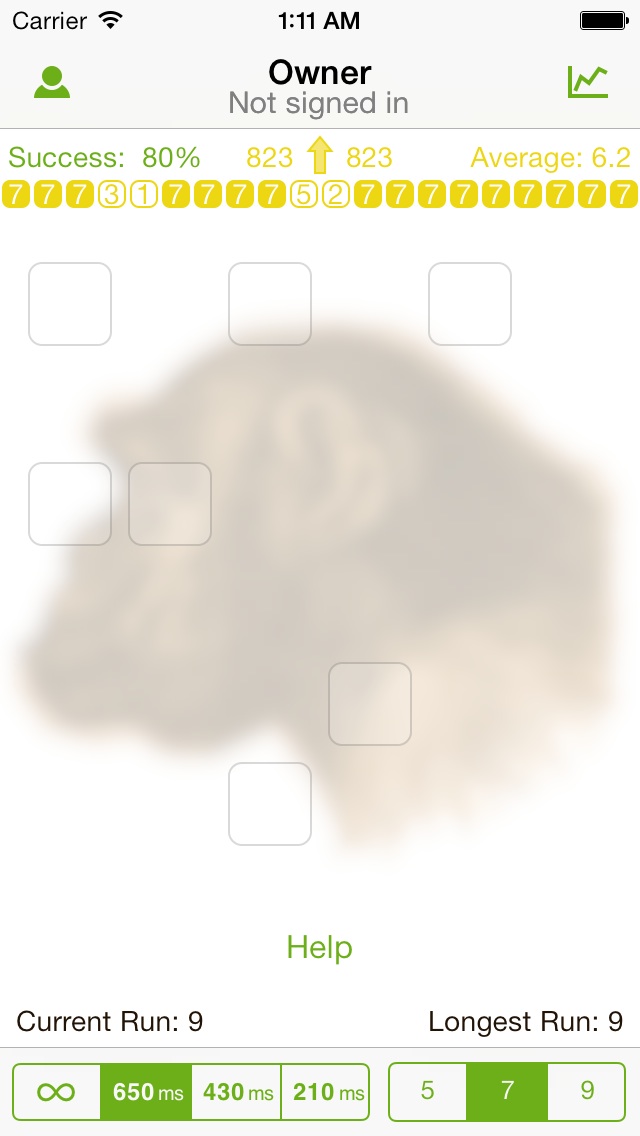 Now touch the squares in ascending order of the hidden numbers.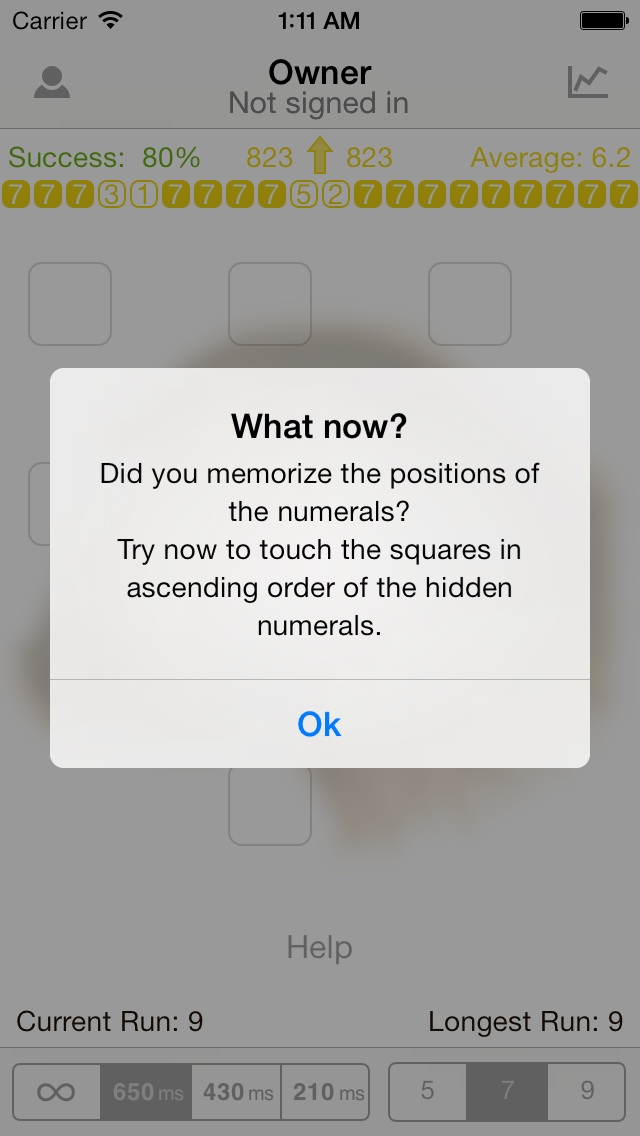 In case you don't know what to do...
Your progress is tracked by some statistics. Ayumu's typical success rate is shown in red.
Switching between players is simple.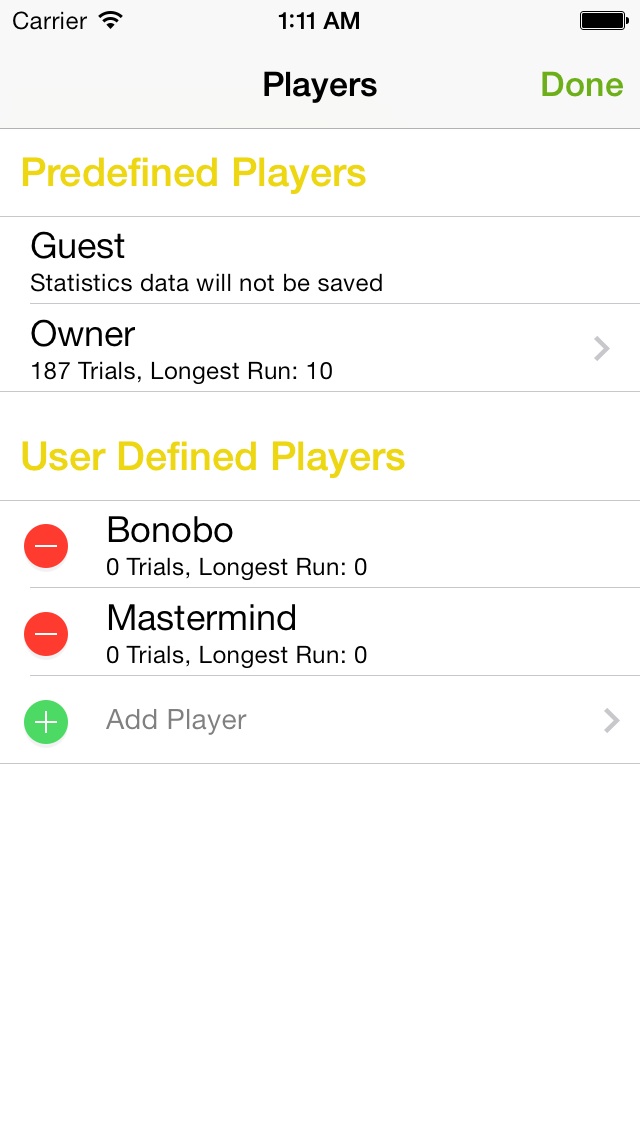 You can create several players which get their own statistics each.
Description of the statistics tracking your progress.
iPad
Minimalistic UI in portrait mode. Touch the Start-Button to go...
Or touch your Game Center player name to see the leaderboards and your achievements.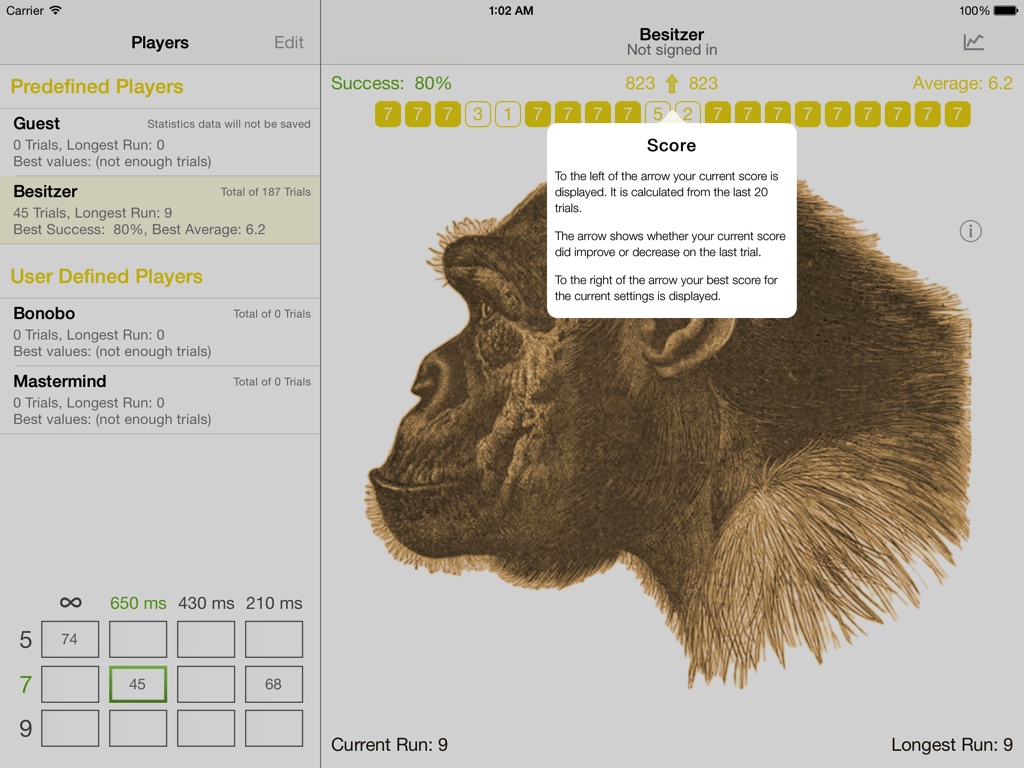 In landscape mode the players list with best values and the settings selection field are always accessible.
Popovers explain the statistics shown in the game area.
Remember the numbers...
…before they disappear
Quickly compare your progress for the different settings by switching between settings with a single touch.
You can create several players which get their own statistics each.